Crepas de Huitlacoche (Huitlacoche Crepes)
Huitlacoche is a fungus that grows on the ears of corn and , as a delicacy, dates back to the Aztecs who enjoyed the naturally-occuring corn fungus as part of their diet. Many Native American tribes also consumed the fungus and viewed it as a delicacy. Here is a crepe recipe courtesy of Cesar Garibay, owner of Mezcal Cantina, one of London's favourite Mexican restaurants.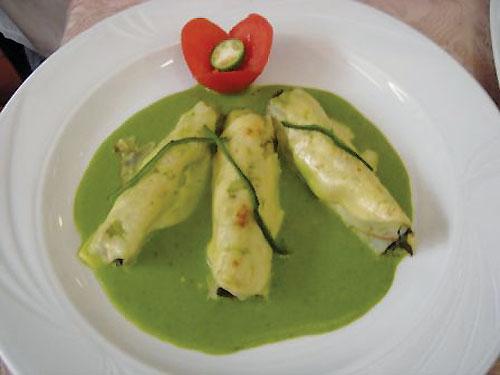 INGREDIENTS
4 flour Tortillas
1 Cuitlacoche mushroom 380g
6 chopped Mushrooms into slices
3 garlic cloves finned chopped
100g jalapenos chillies
50g onion slices
100g sweet corn
Salt to taste
INGREDIENTS FOR THE SAUCE
100g spinach
50g coriander
100g sour cream
4 garlic cloves
½ onion
Salt to Taste
METHOD
In a large pan place the mushrooms, garlic, jalapeno chillies, onions & the sweet corn and fry for 5-10 minutes.
Place The Cuitlacoche into the pan on a low heat for about 20 minutes.
METHOD (PART 2)
In a pan, place the garlic and the onion until they are fried.
Put the fried garlic and onion into a food processor and add the rest of the ingredients.
In a hot pan, warm the flour tortillas.
Fill the flour tortillas with the Cuitlacoche (Part 1)
Add the sauce on the top of the flour tortilla with a layer of Mozzarella cheese.
Put into the oven for 3 minutes.
Serve with rice and refried pinto beans.
Ingredients available at www.mexgrocer.co.uk or deliciously prepared at Mezcal Cantina 127 KIngsland High Sreet London E8 2PB
Señor Ceviche reaches maturity with its more sophisticated sister...
After a summer when the sounds of Reggeaton dominated the mainstream...
Manuel Pertegaz, the world- famous Spanish designer and admired...