Fantasy Football - The Power of Spain's Autonomous Communities
It is no surprise that Basque and Catalan football fans waited with baited breath for the result of the Scottish Referendum, seeking inspiration. They know better than anybody the talent in Spain's autonomous communities and its influence in national football. We take a look at the interesting history between two of the best teams to have never played a competitive fixture.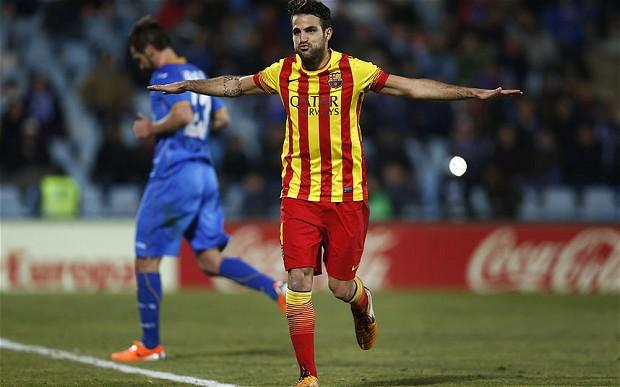 On a sporting level, last week's Scottish Referendum meant fairly little to UK audiences. The English, Scottish, Welsh and Northern Irish football leagues are already separate tournaments - as is also the case with cricket, rugby and most other major sports. Each nation also has its own international team for these sports; in fact the only time the four nations do merge is during major international competitions such as the Olympics or Tour de France.
Take the 2012 Olympic Games for example. The Great British men's football squad could select players from all four British nations, meaning teammates playing for Great Britain would have previously featured for different international sides to one-another. It seems strange to think that a 'national' team could consist of footballers who represent different international sides; yet this has happened in Spain since the early twentieth century.
Spain - a national team made up of foreigners
Out of the twenty three players picked by Vicente del Bosque to represent Spain in the 2014 FIFA World Cup; over half had featured for different national teams other than 'La Roja'. Overall, twelve members of Spain's squad amassed 40 caps for Spanish autonomous football teams - excluding Diego Costa, whose two caps came playing for Brazil. The majority have only played once or twice for their regions (Andrés Iniesta and Pepe Reina once each for Catalonia, Javi Martínez once for the Basque Country, and David Villa twice for Asturias) - though Gerard Piqué, Xavi, Sergio Busquets and Xabi Alonso have 28 gained caps between them, with veteran Xavi featuring the most (10 caps for Catalonia).
Of the autonomous community national teams, Catalonia and the Basque Country are by far the strongest; however until recent years, the thought of even a Basque national team playing on a competitive international stage would have been shrugged off by many. The recent re-emergence of Athletic Bilbao and Real Sociedad at the top end of the Spanish Primera División has meant that many of Spain's top players are now coming from the Basque Country, as well as the other Spanish regions. Catalonia has of course been producing some of Spain's greatest players for many years - most notably Andrés Iniesta, the man who won Spain its first World Cup. It would therefore be as good a time as ever for the two autonomous communities to test themselves in a serious international competition - however for this to happen the regions would have to formally separate from Spain.
Catalonia National Team
As neither Catalonia or the Basque Country are recognised officially as 'nations', both sides are only able to feature in friendly matches against national, regional and club teams (for neither are affiliated with either FIFA or UEFA). In recent years these games have become an annual event, with matches taking place during the Spanish club season winter break. The Catalonia national team has however played nearly 200 games since its formation in 1904. Their first international fixture saw them lose 7-0 in France, and they have since faced International sides from Asia, Africa and a number of South American nations.
During General Franco's Spanish dictatorship, many restrictions were imposed upon Catalonia, yet the team still played a number of games including a memorable 3-1 win over Spain in 1947. They were however beaten 6-0 when the sides played again not long after. To mark the end of the Franco era, a game was played against the USSR at the Camp Nou, with Johan Cruyff featuring for the Catalonia side.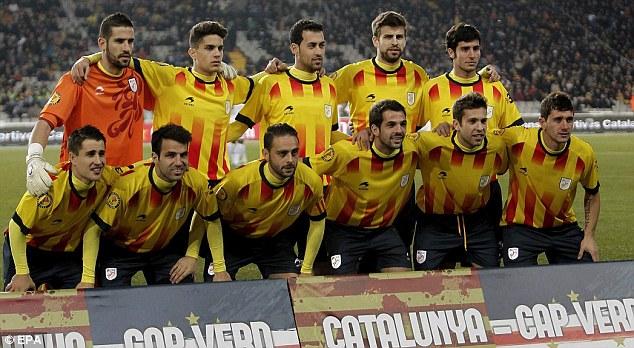 Basque Country National Team
The Spanish Civil War also played an interesting role in history of the Basque Country team, with president of the Basque autonomous region in 1937, José Antonio Aguirre, sending the team on an International tour to raise money to fund Civil War efforts, and to raise international awareness of the conflict. The Basque side were in fact in Moscow when Franco's forces captured Bilbao; while during the dictatorship itself, the Basque team hardly featured at all.
Between 1939 and 1975 they played only twice, losing once to Real Madrid, and also losing 1-2 to Catalonia, in San Mamés, Bilbao. Like Catalonia, they too played against the USSR following Spain's return to democracy, drawing 0-0 in 1978. The following year, in a fixture against a League of Ireland XI, a number of Basque political figures refused to watch the game in the presidential box in protest against the Spanish government prohibiting the Basque football team song Gernikako Arbola (The Tree of Guernica).
This political tension still hangs over the two teams' efforts to become independent from the Spanish national selection today. Gibraltar – now a full UEFA member – faced extreme opposition from Spain in their attempts to participate in competitive International tournament football. During a vote in 2007, only England, Scotland and Wales supported their efforts after Spain threatened to withdraw Spanish teams from all UEFA competitions. Gibraltar will now compete in the qualification stages for the 2016 European Championships, and were in fact drawn into the same group as Spain, though were moved following a previous decision to keep the two teams apart in qualifying rounds.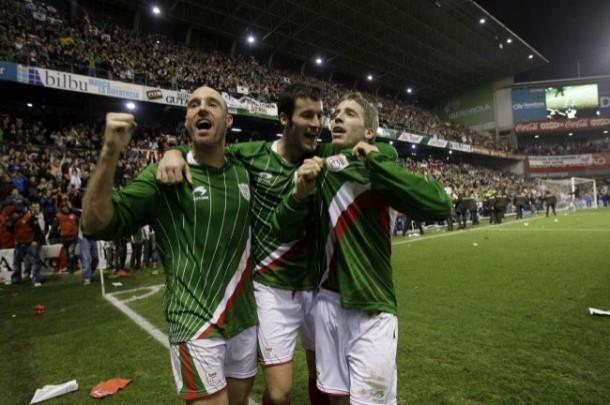 Both the Basque Country and Catalonia have faced similar opposition, in particular the issue of club sides from the two communities' involvement in Spanish club competitions. Many point to the fact that both Swansea City and Cardiff City have clubs playing in the English Premier League despite being Welsh; though the difference between the two scenarios is that the Welsh sides in the English football leagues have been there since the formation of a Welsh Football League, and were moved more for geographical than political reasons.
Without doubt both Catalonia, and the Basque Country would be welcome additions to any upcoming European Championships considering the quality both teams would have at their disposal. A hypothetical Basque Country side today, with the likes of Andoni Iraola, Xabi Alonso Javi Martínez and a strike force of Iker Muniain and Fernando Llorente would certainly be tipped to go far in any tournament. While a Catalonia national side would pretty much have their pick of any graduates from the famous Barcelona 'Masia', as well as other additions from across the community.
Only five years ago Catalonia beat Argentina 4-2; while the Basque Country have scored twelve goals in their last two games, beating Bolivia 6-1, and Peru 6-0 last December in their first game at the new San Mamés stadium. The likelihood is of course that if either team were to separate from 'La Roja', any players who had featured for Spain in a competitive fixture would be illegible to play anyway; but future generations of Catalonian and Basque footballers would be a very promising and exciting prospect for any football fan to watch in upcoming international competitions.
Señor Ceviche reaches maturity with its more sophisticated sister...
After a summer when the sounds of Reggeaton dominated the mainstream...
From his lyrics that verge on magical realism, to his intensely...