The Modern Face of Fado
With a recent sold out performance at Cadogan Hall and fans including Mick Jagger and Caetano Veloso, public demand has already booked Ana Moura's return to the Barbican in September. Latinolife talks to Portugal's new sensation and delectable icon of modern Fado.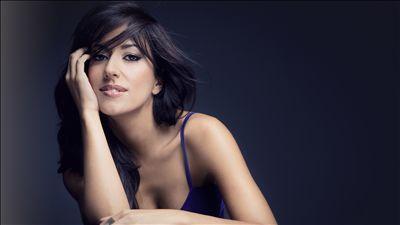 Considering the perceptible technical ability supporting her voice, it should perhaps be no surprise Ana Moura was in the middle of body and voice exercises when we contacted her at home in Portugal. "I was stretching, actually", she explains, "I spend about 15 minutes every morning stretching my body and doing some exercises before moving on to voice exercises… I have many shows in a month, so I cannot mess around with it!"
- Do you take singing lessons?
"Yes, I take singing lessons. I take lessons for one hour in the mornings, and I do daily exercises. Like a professional athlete does train every day, I have to do the same. There are some exercises I need daily so that my voice does not lose power and it keeps strong. And I also take lessons very often with my teacher."
In Ana Moura's career things happen very fast. In 2002 she went with friends to a fado night in Lisbon and she was pushed to sing. A group of traditional fado musicians accompanied her, and in the blink of an eye she was singing on TV.
- Your rise to fame was meteoric starting around 2002. How did you manage to take it all in?
"Yes, it was. When I went to perform in this TV show I had not recorded any album yet, so it was very important. Then a very prestigious journalist wrote a very nice article that made it to a cover and I started to be invited everywhere. In the meanwhile I was also singing regularly in Sr Vinho (a fado house) and people who worked professionally with fado came there to see me and wanted to work with me. We got involved in activities that led to the first album, but I started to sing and to do shows before I had my first album. I went on tours as well, and it was interesting because I had never done anything like that before".
Although everything happened very quickly for Ana Moura, she seems to have taken it very naturally. The early 2000s were years of professional growth but not overwhelming. Raised in a family where music was central, Ana started singing when she was a child. Her parents listened to or played music all day, everything, and they loved fado. Ana's ability to amaze any audience was noticed by her parents when she was about 4 and two years later she was singing in public. 'In meetings at home family friends used to shut up to listen to me sing', she recalls. Later she went to university to study music, but after three years, when the shows and tours started, she had to leave the course.
What do you remember of Portugal in the 80s when you were a child?
"I remember mostly the music. I remember I listened to Portuguese rock. The bands were very innovative then, for instance Os Taxi and Heróis do Mar. They did rock in a very Portuguese language. In those years Portugal produced very interesting bands. I also listened to Brazilian rock, like Raul Seixas. I loved him. Here in Portugal we heard of him together with Paulo Cohelho, the writer, as lyricist, although not everyone remembers Cohelho used to be as a rock writer. Also Rita Lee was very important… innovative, and her lyrics were amazingly cool".
Portugal had lived until 1974 under the dictatorial Estado Novo regime, which governed the country since 1932 with some strong fascist traits.
"I remember we went through a lot of changes in many areas starting with the revolution of 1974. People had grown tired of all that, so they wanted to explore what was happening abroad and they gave little value to anything that was not Portuguese. But things have changed a lot in the past few years. Today Portuguese people value what is good from here. For instance, things such as our oil which is of very good quality, our wine, and the same happens with music. Some years ago fado used to only for old people, but not today. Now it's incredible… young people love fado and Portuguese music. So we had to adapt to a few changes and today we're in a great moment when people can appreciate what is ours."
As Moura talks I wonder if fado has also gone into such experimental periods as cumbia, tango, salsa or vallenato, to mention some. Today young artists combine traditional instruments with electronic sounds to create songs that can be danceable and melodic the same time, and combine politically awareness with socially criticism (the case of Calle 13 is only one of the most paradigmatic), characteristics hitherto believed to be irreconcilable. Moura is known to be experimental, so I asked.
"Exactly, they are doing that, but I'd like to say I love cumbia and it goes so well with electronic music, I love it!".
Your brand new album Moura also combines traditional sounds with new ones…
"It's funny we were talking about cumbia, because I was looking for more upbeat rhythms. This album is influenced by the music of the north of Portugal, which has a faster rhythm. So I wanted to find sounds for a new fado dançado, a fado that can be danced. Although most people won't know that, fado used to be danced, although that got lost in time and it became famous as a melancholic style to the point that today known uniquely and exclusively as that. But fado can be danced and that's the idea of the song 'Fado dançado', whose lyrics go '(se o fado se canta e chora também se pode dançar' (if you sing and cry the fado, you can also dance to it)".
Other beautiful songs that also represent the album's upbeat spirit are 'Dia de folga' and 'O meu amor foi para o Brasil'. "We made the album with that aim in mind. We also used electric guitars and drums, which are not common in fado and produce a sound that is not quite characteristic. So, it's not traditional fado".
While fado used to be danced in the 19th century, before it went into a period of formal stabilisation towards the last quarter of the century, more than a century later, Moura and other young musicians are helping it to be 'celebrated': "now it is again a festive music people dance to".
One of the surprises in the new album is 'Eu entrego', featuring Omara Portuondo, the 84-year old singer of Buena Vista Social Club. "Buena Vista invited me to play with them and we got on with so well with Omara that I asked her to come and sing 'Eu entrego' with me. I think it was the right song because the lyrics take the point of view of a more mature woman and our voices go well together because they are very different".
The Cuban, Latin sound of the song also fits Portuondo very well. But there is a lot more to the album, and those who still want to feel saudade when listening to Moura, they can. 'Moura encantada', 'Tens os olhos de Deus', 'Ninharia' and even the more experimental, in English, 'Lilac wine' will bring you back to the moods only fado and Moura can make you feel.
Señor Ceviche reaches maturity with its more sophisticated sister...
After a summer when the sounds of Reggeaton dominated the mainstream...
Inspired by the purist Flamenco that he learnt from his teachers,...