New Era Jazz Queen
What is the outstanding quality that westerners find so baffling about Cuba's bounty of world-class artists? From Carlos Acosta to Chucho Valdez, you'll find a common combination unique to this idiosyncratic Caribbean island – a classical training as rigorous as any Russian maestro underpinned by the powerful currents of the island's proud African heritage. The latest star to blow away London audiences is no exception. The 24-year-old singer, composer, arranger, choir director and band leader Daymé Arocena is a classical musician schooled in the sounds and laylines of Cuba's Santeria religion.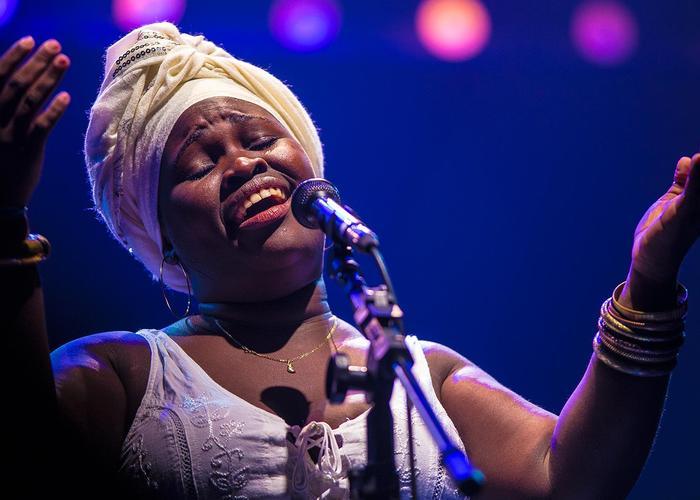 Daymé's talent was spotted at a young age, with her winning the prestigious Marti y el Arte award in 2007 and becoming principal singer with big band Los Primos at age 14. Daymé experimented with a series of instruments – violin, trumpet, piano and guitar – before she found that choir directing, a route popular with Cuban children, was her niche. But her influences span everything from George Benson to Sting, and she can sing jazz scales with as much ease as she tells jokes and stories on stage in a language clearly not her own.
With ensuing attention from the likes of Wynton Marsalis and saxophonist Jane Burnett, it wasn't long before Daymé came to the attention of Gilles Peterson. Gilles brought her to the UK, where she's been gigging and touring for months and has produced her latest heavily jazz influenced album 'One Takes.'
Now a young artist with huge stage presence and charisma, experimenting with new geographical and musical horizons, Jose Luis Seijas talked Daymé in Peterson's North London studios and found her (impossibly) even more full of life off stage than on….
Jose Luis Seijas: How did you get into music?
Daymé Aroncena: My mum says that I was singing before I was talking. They said that when I cried for food as a newborn, that my crying was strange…like a cat! They used to let me cry for a long time, thinking it wasn't a cry for food (laughs)…it took my mother a while to click, so I went hungry for a few nights! (laughs)
When I was older, my mum used to put me in front of the TV and I would try to imitate the sounds of the music coming out. But my first musical memory was during Children's Day in Cuba. We went to a big party in a hotel and there was a singing competition, and I went crazy wanting to take part. My mum wasn't too happy but my dad encouraged me. Nobody knew what I was going to do but I started singing and I took everyone by surprise! I won the competition and at that moment they realised that I could sing. I've still got the picture, looking happy with my balloons and cake!
When I was eight I started preparing for the educational system for musicians. To be a musician in Cuba you have to start early. I was lucky, my parents spotted my talent, so when I was 10 I was already formally studying music and spent nine years training. I feel privileged to have been put through the system, it is super hard to get in, and staying there is even harder.
JLS: What happened after that?
DA: Well I was actually doing choral direction at school. That gave me a great understanding of composition, but I was also getting into Jazz, and by 15 I was singing with the school big band.
JLS: Is jazz your first musical love?
DA: Well for me Jazz is the bridge between Classical and popular music, and is the genre that completes my senses. It is like I can feel it with all my senses… it is a like a good wine… so they say because I don't drink. (laughs)
JLS: What you say is interesting, because I would say you have not taken the easiest road. I imagine you singing boleros, which is a genre that is very popular and that you can probably handle with ease…I actually heard you singing boleros on a youtube video and… well you were phenomenal…
DR: Boleros run through my veins!! That is why I sing the way sing. My grandmother, who is the love of my life, was a bolerista – she is not a professional singer but has a phenomenal voice, and when I was little she used to make me sing boleros with her.
JLS: When do we get the bolero album then?
DA: (Laughs) I have sung boleros all my life. I remember singing… (breaks into a rendition of La Lupe's Que te Pedí)… all those heartbroken vein-slitting songs! My grandmother loved me singing all those beautiful songs…and they are in me, but I am a defiant woman, I like doing things that make me study. So boleros are almost too familiar. For example, Besame Mucho, which some people underrate because it is so popular, it has so many musical tonalities in it that I feel are personal… it is the portrait of teenage innocence. A beautiful thing.
Recently I found my notebook from when I was 13 years old and it was so funny because I would write these steamy lyrics. I was like the girl in that song… and I hadn't even been kissed by then! Recently I was in Cuba and got on stage and I sang Besame Mucho… when I got off stage my friends started to teasing me saying I got them hot! (laughs)
JLS: All the more reason to record a bolero album!
DA: (laughs) At the moment I am focusing on rhythms that are being forgotten in Cuba, such as la Guajira, Changui, Tango Congo, Calypso. People know them, they understand them but they don't play them enough. You can get Changui in Guantánamo, or Guajira in a guataque but you don't see it in the streets.
JLS: You guys in Cuba have so much music...
DA: I think the real problem in Cuba, as with the music world in general, is that musicians are now in the business of selling lifestyles more than art. People are buying what artists wear and consume, the media push the artists to sell more than their art.
JLS: Do you think things will change in Cuba now?
DR: Cubans, despite being in a semi-lethargic state, are very aware of what is going on around the world, so things will not impress us as much as people think.
JLS: Look at Gente de Zona, for the first time, a Cuban act living in Cuba is topping the charts everywhere in the world.
DR: From that angle, I think Cuba is the treasure island of hidden gems… when people arrive and see the musical universe there is in Cuba, they go BLYMEY!!! You kick a stone and five great musicians appear… maybe our problem is that we are so talented, we become arrogant, we try to outshine the rest of the band…Cubans like to lead too much (laughs)
JLS: Something that I found strange is hearing you sing in English…
DR: Look, they way I first come out with melodies and lyrics is with Scat (vocal improvisation with out words), and that kind of tells me what language I should use. Recently I composed a song in Portuguese. It took me a hell of a lot to finish it but I did it. Scat is my first language, and from there everything else falls into place.
JLS: So what is your next project, any collaborations?
DA: Generally I am in my own galaxy doing my own thing. There are some artists that I would die to sing with – Sade, Sting, Djavan, Maria Rita – those are my dream collaborations…but at the moment it makes me happy to be in London, the same city as Sting… I love London, it is beautiful to see multiracial couples here, everyone respecting other people's space. This is a very special place.
Dayme will be performing at The Love Supreme Festival this weekend on the July 1-3 www.lovesupremefestival.com
Señor Ceviche reaches maturity with its more sophisticated sister...
After a summer when the sounds of Reggeaton dominated the mainstream...
Ana Victoria is an Afro-Colombian biologist and the first female...