About LatinoLife
www.Latinolife.co.uk is your one stop shop for all things Latin in the UK and around the world...whether its great concerts and club nights in the London capital or hispanic cultural phenomenon in Latin America and across the world.
We bring you a great combination: a comprehensive guide to what's on in the UK and a quality magazine packed with interesting articles, interviews, reviews and columns about Latin America, Spain, Portugal and their diasporas in the UK and all over the world. Whether its language or dance classes you want, the latest music, film and book releases, injecting your social life with some Latin flava or tips for travelling, this is the place to come.
We are a multi-media platform dedicated to reflecting the world of Latin American, Spanish and Portuguese culture that is being sought after and celebrated all over the world. Our aim is to give people easier and broader access to information and events and be a platform for Hispanic and Latino and Afro-Latin creativity at a grassroots level.
LATINOLIFE MAGAZINE
Latinolife is the UK's leading Latino and Hispanic lifestyle and listings magazine. A printed guide to Latin London, every season we distribute 20,000 copies to Latin American, Spanish, Portuguese and other cool venues across London, aswell as hand to hand at the big Latin concerts and events.
Our magazine distribution entails:
• 60% Spanish/Latin American venues along the 'Latin routes' From South (Brixton/ Clapham/Vauxhall) to NE (Seven Sisters) and NW (Willesden Green).
• 40% selected record shops, cafes, bars, colleges, libraries, community centres in multicultural areas such as Stoke Newington, Crouch End, Hackney
Check out our latest issues here: http://issuu.com/latinolife and email us via our contact form for a media pack
THE LUKAS
The Latin-UK Awards, better known as The LUKAS, recognises the contribution of Britain's one million Latin American, Spanish and Portuguese residents. Created by Latino Life, The LUKAS is a fantastic, colourful, and entertaining celebration of Britain's rapid growing passion for all things Latino.
The LUKAS is the most media-covered and widest-reaching Latin event in the UK, and its fastest growing awards ceremony. Reflecting the UK's rapidly growing Spanish and Latin American communities and the popularity of Ltain culture worldwide, each year The LUKAS ​makes national TV news in the UK (BBC), Colombia, Ecuador, Mexico, Spain and on Latin regional channels such as ESPN and UNIVISION.
The event is covered by more than 90 press, radio and TV outlets and over 6,000 websites, reaching an estimated 10 million people. As the UK votes for its favourite Latin dancers, musicians, footballers, personalities and restaurants, the global media coverage creates a surge of voting globally, especially from Europe and Latin America itself, each country supporting its footballers, artists and personalities abroad. Here below are examples from 2013 and 2014: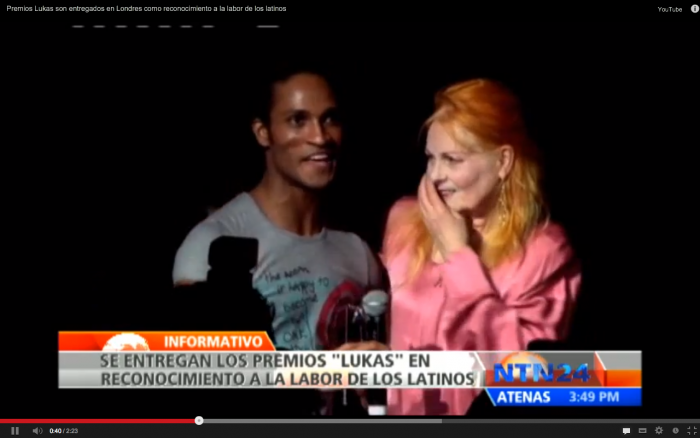 If you would like to nominate a candidate for the LUKAS 2015.
Please use the contact form, making sure you provide:
The name of the nominee
The award being nominated for
Your email address (essential)
Email, telephone website address and/or Facebook URL for the nominee (so that we may verify and inform them of their nomination)
We will then contact the nominee to tell them that they have been nominated.
Señor Ceviche reaches maturity with its more sophisticated sister...
After a summer when the sounds of Reggeaton dominated the mainstream...
The Spectrum of Young Lorca.