Divine Sensuality: The Genius of Juan Luis Guerra
From his lyrics that verge on magical realism, to his intensely sensual melodies and his relationship with God, we praise the undecipherable enigma that is Juan Luis Guerra, one of Latin America's most sublime music makers and Dominican hero.
by:
Charlotte Mackenzie and Amaranta Wright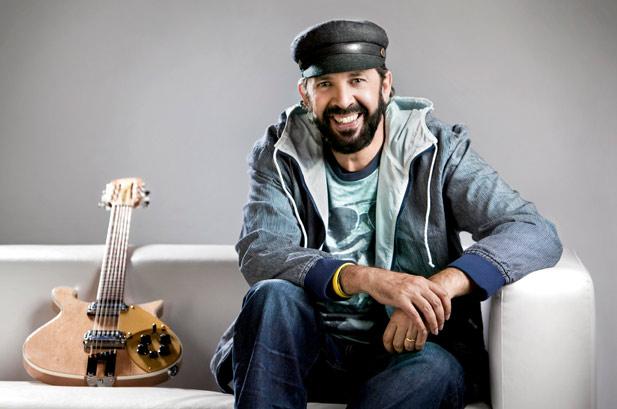 This is "perhaps the best moment of my career," says Juan Luis Guerra, probably the most famous Dominican on the planet, loved and recognized worldwide for his Merengue and Bachata hits. For an artist who never sought commercial fame, the songs of Juan Luis Guerra have become Latin America's most famous and most enduring, making the continent dance, cry and laugh and, most importantly feel unequivocally Latin American, when they listen to him.
Visa para un sueño…
Born on June 7th 1957 of humble origins, it is quite astonishing that the man who was to write some of the most sublime compositions in Latin American history, grew up with no musical influences. "No one in my family was musical or played an instrument. My father was a good baseball player and a very good basketball player. He was a semi-professional athlete," Guerra has said. "I started playing the guitar when I was about 10 years old. When I was older, I told my mother that becoming a musician was the only thing I wanted to do."
As a teenager, heavily influenced by the Beatles, Juan Luis taught himself the basics of guitar playing and, after winning a contest, attended the National Conservatory on a scholarship, prior to studying at the famous Berklee Conservatory in the United States. Upon his return to the Dominican Republic he began to experiment with his group Los 440, blending the African-influenced music of the Dominican Republic, Plena y Bomba and Merengue with jazz. The band takes its name from the universal tuning pattern of the A note, 440 Hertz and Soplando (1984) and its first jazz based album released by a group of friends who rehearsed in a garage on Sunday afternoons was, Guerra says, never intended to be a commercial hit. It made him a nationwide phenomena.
Cycling Across Niagara Falls under Coffee Rain
It wasn't until 1990 that the album 'Ojalá que Llueva Café' earnt Guerra international fame across Spanish speaking countries (The song's fame was relived in 1996 and 2008 with covers by Mexican band Café Tacuba and Spanish singer Rosario Flores). Ojalá que Llueva Café is an example of how Guerra's socio-conscious lyrics are lost on his English-speaking listeners. "I'd love to be more skilled in English, to get songs like 'Ojalá que Llueva Café' into English," he said "I'd love it if Americans could understand Dominican culture, Dominican metaphors."
Indeed, while "El Costo de la Vida" in 1992 made Guerra the first performer of tropical music to get a number-one hit in the Hot Latin Tracks, followed by a grammy for Bachata Rosa, which sold over 5 million copies, Guerra's songs were proving to be more than just party anthems, with catchy melodies, a big brass band and hip-wriggling rhythms. His 1998 release 'Ni es Lo Mismo ni es Igual' (Neither The Same Nor Equal), which won three Latin Grammys, was a case in point. It featured "El Niágara en Bicicleta", (riding the Niagara on a bycicle) one of Guerra's most famous and a nod to when Guerra was very ill in hospital, having just recovered from bilirubin. "The hospitals around here are not well equipped, and a lot of the equipment in them is broken down. I told the doctor when I was getting out of there that I was going to write a song about my experience. After that, I wrote "Niagara en Bicicleta."
"El Niágara en Bicicleta"is a typically Dominican turn of phrase, referring to any task that is virtually impossible, a virtual miracle. The chorus meshes reality with fantasy, reflecting the world of magical reality that so many Latin Americans, especially in the countryside, experience:
Don't tell me that the doctors left.
Don't tell me you don't have anesthesia.
Don't tell me someone's drunk the alcohol
And sewn the thread for stitches into a tablecloth.
Don't tell me the forceps are lost,
That the stethoscope is off partying,
That the x-ray machine has burnt out
And the serum has been used to sweeten the coffee.
God and Sensuality
While Guerra's music became known as "social Merengues", touching on problems that Latin Americans face on a daily basis, the singer-songwriter suddenly became noticed for his increasing reference to God. He once explained: "I didn't grow up with a faith tradition, and I had found that even though I was successful in my career, I was still somehow feeling very empty inside." At a time when evangelical Christianity was spreading all over Latin America in the 2000s the singer began celebrating his faith, with the release of Para tí in 2004. "As regards my latest album, Para Ti, it contains songs that I've been singing at my church. It has some different kinds of songs on it in gospel and rock styles, but it also has Merengues. Some people have thought that I was changing my direction, but I will always write Merengues and salsas."
Though criticised by some for risking his musical integrity, the proof as always is in the pudding, or more literally in the music. The fact is that Guerra's move towards Evangelical could in no way be said to have affected the quality of his music. His merengue Las Avispas is a good example of this; even the most fervent atheist won't resist tapping their toes. Nor has Guerra's 'going religious' affected the respect from peers such as the other titan of Latin music Ruben Blades, who said: "Juan Luis is my friend, a excellent musician, a gentleman, and a great person. He is very spiritual. He is a proud Dominican for all."
Guerra puts his ability to make incredible music much more simply: "You don't have to be a virtuoso to make a contribution to music. You just need to find something different; that's the key."
Guerra's 'key' is an intense sensuality; so intense in fact that it has often been described as erotic.
To this Guerra has responded: "I don't write for the hormones, I describes existential situations in the every day in the neighbourhood, and my only aim is that not to write song with an expiry date." Despite his humble ambitions, since 2000 Guerra has gone on to receive numerous awards including being name as a BMI Icon at the 13th annual BMI Latin Awards and five Latin Grammy awards in 2007. On September 15, 2008 Guerra was named a UNESCO Artist for Peace "in recognition of his efforts for the benefit of children with disabilities and children in need."
Lost in Translation
Are Guerra's lyrics erotic or simply untranslatable? Try this one 'Burbujas de Amor' (Bubbles of Love), apparently inspired by Julio Cortazar's Hopscotch: I'd like to be a fish So I could soak my nose in your fishbowl And make bubbles of love everywhere. Even in Spanish, Guerra's lyrics can at times seem very random, much like those of the English band that had such a profound influence on him. If anybody can tell you that you don't have to understand the lyrics it is a self confessed Beatles fan as is the Dominican master of melody: "I never knew what the Beatles were saying until I was older. Not long ago I started studying the words of 'Eleanor Rigby' with my niece, and I finally understood the song. I used to sing it and had no idea what it was about."
Ultimately it is Guerra's melodies and celebration of the Latin Caribbean that continue to connect with his audience. As Dj Jose Luis, the UK's foremost Latin DJ explains: "He plays pop to a super sophisticated level, his melodies are timeless, his songs from twenty five years ago sound like they were recorded yesterday. He transformed folk music into pop music and made it universal, reinvigorating merengue, taking Bachata to the masses twenty years before todays Bachata boom. And it's all down to the quality."
Señor Ceviche reaches maturity with its more sophisticated sister...
After a summer when the sounds of Reggeaton dominated the mainstream...
As she prepares to speak at this weekend's Flipside Festival in...