The History of Reggaetón
For those of you who've come to it late, here's a beginner's guide...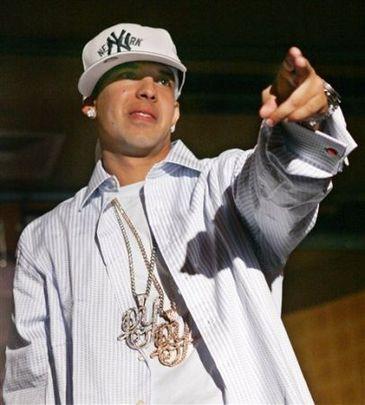 November 10th, 2004. The Madison Square Garden. The "Megatón" Festival is sold out and heaving. The dark, proud and irreverent faces of 40,000 young Nuyoricans, Dominicans, and African-Americans savour the moment. America's most important venue is about to stage the biggest ever concert of a rhythm that came from nowhere, invented by young DJs for their young audiences in the heart of the Caribbean, thousands of miles away.
Their parents and grandparents came to the land of dreams and cleaned offices for white middle class America, while their music vanished into specialist collections or was processed into jingles for Sex and The City. But now its pay-back time. Reggaeton – the new Latin fusion of Jamaican Dancehall and Ragga, with heavy rap influences and spiced with every other Caribbean rhythm under the sun (Salsa, Bachata, Merengue, Reggae, Bomba) - is making too much noise across America to ignore.
If your feeling poetic, you could call Reggeaton a homage to the first Jamaicans who were taken to Panama in the early 1900s to build the Canal, and paid the price in blood and tears. These Canal workers were also the first to bring the sounds of Jamaica to the Spanish speaking Americas, planting the seeds of the first Reggae in Spanish. The strong connection between Panama and Jamaica lived on and in the early eighties, El General, a dude in a white military suit, with tassles of his shoulders and shades, was the first Panamanian Reggae star to gain international recognition.
Meanwhile, in the ghettos of New York, black brothers – whether Jamaican, Puerto Rican or Afro-American - had been long swapping their rythmns and sounds; while salsa was being left up north, Hiphop and ragga were being brought down south. In 1993 San Juan, Puerto Rico, a club called The Noise was the place for young Puerto Ricans to go and freestyle and rap over instrumental Hip Hop and Dancehall-Ragga tracks. DJ Negro the resident DJ of the club, releasedThe Noise Vol. 1 in 1994, The sound was raw, with fast beats and heavy bass. A couple of years later, DJ Negro hooked up with a Panamanian DJ called Chombo and they released Los Cuentos de la Cripta.
Mainstream record labels were not interested in the new material coming out of Puerto Riuco and Panama and radio stations boycotted the albums, criticizing their lyrics for being violent and vulgar. After the unlikely success of The Noiseseries (they kept releasing albums, 10 so far), a Puerto Rican entrepreneur, Raphy Piña, decided to try his luck with the new music and funded Pina Records. He signed almost every MC-DJ-Producer in the scene. Vico C, Big boy, Baby Rasta, Gringo and Don Chezina to name just a few had their videos shown in TV stations and their music played in some radios, thanks to Piña.
Even with the lack of production resources, the quality of the music and what it was saying shone through and began to spread on it's own. If it was violent, that was only because it reflected the dehumanizing effects of poverty and institutional racism - a reality that Latin America's poor never chose but have endured for decades.It is no wonder that by the late 90s Reggaetón had been the music of the Latin American underclass, whose condition was the same Colombia and Venezuela. The music came straight from the barrios and it was about the life in it.- the harsh reality of gang fighting, and the consolation of friendship and love were the main themes of Reggaetón lyrics. While salsa was the music of a generation who had believed in the ideals and romance, Reggaeton is the music of a generation hardened by disillusionment. A Panamanian generation, for example, that suffered being bombed by Bush Sr.'s Operation "Just Cause" in 1989 (killing 4,000 people in one raid on the Jamaican neighbourhood of Chorrillo) just because it's President Noriega wouldn't let the Americans station Contra troops there to fight the Sandinistas in Nicaragua.
People still criticize Reggeatón for its vulgarity. And sure, there are groups who focus on escapist booty-gazing element of it, especially now that there's money to be made. But the real pioneers of Reggaetón, and the most loved, are those who speak truths from the heart such as Vico C, also known as the philosopher. His musical career tracks his own story frommalandro, to heroin addict, to prisoner, to father and self-reformer. His frustrations, anger and struggles to find peace and sanity, reverberates in every son who has grown up in a Latin American barrio.
These are the reality lyrics that the white racist establishment classes all over Latin America could not listen to without feeling the urge to judge. Neither did the political messages against corruption of the white political class and its racism make them feel comfortable.
In 2000 an MC with a unique flow, husky voice and hard hitting lyrics started getting noticed. Tego Calderon was his name. A black man from the ghetto of Carolina in San Juan, Tego released his first album "El Abayarde" in 2002. It got mixed reviews, again criticized heavily by media and music critics. The album sold 250,000 on the tiny island with no promotion.
He was soon being invited by 50 Cents to record the remix of P.I.M.P and with Cypress Hill he recorded Latin Thugs. In 2003 he opened concerts for Sean Paul and his tunes were in Tony Touch's legendary mix tapes. In the autumn of 2004, the multimillion sellers N.O.R.E (from Nore and Capone) decided to go back to his roots. He started listening to Reggaetón in New York's Latin clubs and wanted to do something for the music of young Latinos, so he released Oye mi canto, featuring Nina Sky and Tego. The single burned the American charts and became the first crossover Reggaetón hit, opening the door for the others to come. At the same time, Tego was also recording the remix of the now world hit Lean back by at Joe. He also did a cameo appearance in the video.
So by the mid noughties, Reggaetón was the hottest rhythm in the streets of New York and Miami. Its popularity in the continent has grown massively with the first artists from Cuba, Colombia and Venezuela already getting airplay and promotion in their countries.
Those who thought it would fade out have been proved wrong. Multinationals' latino A&R men, who were busy nurturing the clean cut white Latinos like Ricky Martin because they didn't like the way the likes Vico C looked, what they said, how they sounded, or what they wore, were missing the musical point all along, and are now missing the $$$. Since the boom of Salsa in the 70's, no other Latino music has created such an impact in America's music industry.
But success has not yet distanced the likes of Vico C and Tego from their roots. Tego still resists being signed to a major label (he insists only on major distribution deals). " I ain't trying to be employee," he says. "I have worked too hard to build what I have, I have never been a good employee, I don't like anyone telling me what to do. Yup, I lose millions…but I keep my freedom."
More recently, Tego even gave Puff Daddy a lesson in staying real after the latter offered Tego the chance to appear in his Sean John ad campaign. The Puerto Rican turned down the offer after learning Sean John's alleged involvement in Central America sweatshops,, for what Calderon told the press:" I can't say in my songs one thing and then personally be something else…forgive me but I don't need Time square, I don't need Billboard. I am not trying to conquer white Middle America. I already won the hearts and respect of those who I wanted to win- mi gente Latina, my people, the streets, my black brothers and sisters."
Through Tego and his predecessors, Reggeaton is giving a young generation a new confidence and platform to express their ideas and musical talents, as well as allowing them to criticise the system in a non-violent way.
This article was first published in BULB Magazine in 2007. The sequel article "From Reggatón to Urban Latin; what happened after the boom" will appear in Candela's next issue on Latin Music, coming very soon .
Reggaetón's most classic Albums
Vico C: Aquel que habia muerto. En Honor a la Verdad
Tego Calderon: El Abayarde
Daddy yankee: El cangri.com. Barrio Fino
Yaga y Makkie: Sonando Diferente
DJ Nelson: La Discoteca
Eddie Dee: Los 12 Discipulos
Ivy Queen: Real
Pina All star: Vol 1 and Vol 2
Varios Artist: La Conspiración Vol 1 and 2
Julio Voltio: Voltaje
Señor Ceviche reaches maturity with its more sophisticated sister...
After a summer when the sounds of Reggeaton dominated the mainstream...
Having withstood years of international criticism, Chavez may need a...