Haitian Thinking Girls in Search of School
A group of Haitian nuns are launching a revolutionary post-disaster reconstruction project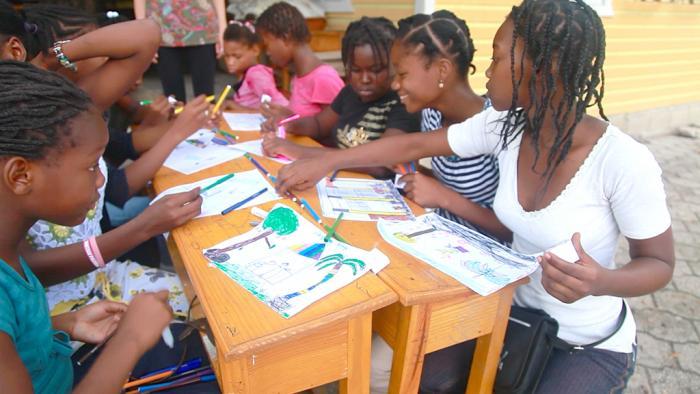 4,000 schools were destroyed in Haiti in the 2010 earthquake. Few have been properly rebuilt. A community of nuns, teachers and children in Port-au-Prince are launching their final appeal to build a sustainable school complex with their international networks, in the biggest school crowdfunding campaign for Haiti yet http://bit.ly/TDGirls.
It will be four years on 12 January 2014 since the huge 7.0 earthquake wreaked devastation across Haiti. In a matter of hours, hundreds of thousands had died and 4,000 schools - equivalent to all the secondary schools in the whole of England - were destroyed.
One of those schools was Centre Rosalie Javouhey, a girls' primary school in one of Haiti's most disadvantaged slums, Fort National. On January 11, 2010 it was providing education to 750 pupils slum dwellers and child workers, running night classes and community projects. On January 12 it had been reduced to a pile of rubble.
The school managers, the Sisters of St. Joseph of Cluny, who educate over 10,000 girls annually in Haiti, have not only been trying to re-house these 750 students, but hundreds more who lost a school at a nearby site. After nearly 4 years of operating from tents and now transitional shelters, they are still lacking any serious donor commitment for the redevelopment of the complex as a whole.
Nearly 4 years ago, young professionals took on this vital disaster response project that the humanitarian community had avoided. The group brings together volunteer international development planners, architects & engineers that not only wanted to empower a decimated community to build back better, but also to make their plan an open-source template for responsible, future-proof school reconstruction in tropical disaster-stricken places worldwide.
Sr. Meave Guinan, a Dublin-based Cluny Sister helping support the project said: "Getting this school built is vital for helping these girls thrive, and not just these girls but many more for years to come. Every day they study in conditions even an adult would find challenging but there is now a real chance of ending that for good.
"Without the support and efforts of the architects, engineers and designers who have all volunteered so much time and expertise we wouldn't have got this far. But now, we need that final bit of help with funding to get these carefully thought out designs put into practice and built."
Linda O'Halloran, project founder said: "The site is a perfect example what works and what really doesn't work about international disaster relief. They got emergency aid relatively quickly – tents, portaloos – but we're the only ones who've ever asked what they need to meet their demands in the long run. For one of the most important education providers in Haiti, that's a bad sign."
Of the 9.3 billion USD promised to Haiti after the disaster, most never made it there, and less still has been invested in permanent reconstruction projects. More common uses of aid money include temporary structures and emergency shelters. The excessive delivery of poorly planned temporary shelters – be they houses or classrooms – have in many cases redefined the infrastructure of a poorly planned city for the worse.
The Thinking Development project was founded to break this trend, and support effective, long-term disaster recovery, starting with women's education. It brings together international experts in development planning, young engineers and architects. Together with the local community, they have designed a disaster-resilient, eco-friendly and replicable school for urban Haiti. It will provide an open-source design that can be built and maintained by Haitians, and easily adapted elsewhere in Haiti's dense cities.
The 'Thinking Girls' School' crowdfunding campaign has just launched, which aims to secure £40,000 – just over 5% of the total project costs, to help get the project started. Thinking Development and the Cluny Sisters hope to have the first school underway by the fifth anniversary of the earthquake in 2015. If the money is raised, the vision for successful, community-led sustainable disaster recovery, and for a more resilient Haiti that educates its children, will be made a reality.
To watch the campaign video and support the project, follow this link: http://bit.ly/TDGirls
Señor Ceviche reaches maturity with its more sophisticated sister...
After a summer when the sounds of Reggeaton dominated the mainstream...
My friends all love it! Ceviche is a seafood dish popular in the...