LOST IN TRANSLATION
Scouted after Argentina's 1978 World Cup victory, Osvaldo Ardiles was one of the first foreign footballers to play in the Premier League. He became arguably the best player in English football at the time and his FA Cup victory for Tottenham Hotspurs made him a legend at the North London club. Ahead of receiving the Lifetime Achievement Award for his contribution to British Sport at The LUKAS gala in April, the Argentine recounts his early days playing football, the 1978 world cup, Anglo-Argentine relations and getting lost in pronunciation.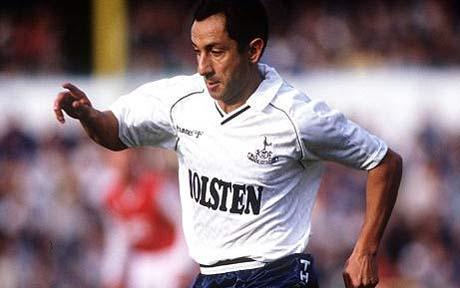 "When we arrived in 1978" is a phrase that Osvaldo Ardiles repeats many times throughout the interview, as if that year punctuates two clear 'before' and 'after' phases in his life. "Not only were we the first players from Latin America, but we were the first foreign players" the Argentine recalls his arrival at Tottenham Hotspur from Huracán with an unerring sense of occasion: "It was a great adventure."
There had been foreign-born footballers playing in the English top divisions before (German Max Seeburg, coincidentally also of Spurs, is recognized as the first but, though born overseas, moved with his family to England as a 2 year-old) but none that reached the level of acclaim that Ossie had before doing so.
One of five brothers, football had always played a prominent part in Ossie's life. According to his lawyer father, however, it did not constitute a career to pursue. The verdict was that Ossie should follow in his footsteps and take up legal studies. But El Pitón's football was continually defying all parental, and other, expectations.
Quickly from being selected for the Cordoba elite squad, Ossie made his debut for Instituto de Cordoba aged just 17. Five years later he moved to Belgrano in Buenos Aires, then Huracán and was promptly called up to the national side. Despite transferring from the law department the University of Cordoba to the University of Buenos Aires on moving there, the studying stopped when he became a regular Albiceleste. Football was proving beyond all reasonable doubt that it would be more rewarding for Ossie.
From World Cup Glory to White Hart Lane
At the 1978 World Cup Ossie had caught the eye of Tottenham manager Keith Birkenshaw. A move to England was discussed at a hotel in Buenos Aires. The adventurous Cordobés had always thought about playing in the European leagues, but England's relationship with that collective, with it's anomalous long-ball style, was equivocal: "I wanted to progress in Europe, but I was thinking about Spain, Italy, France in that order." Nonetheless, Ossie "liked the idea" and a deal was done very quickly, enabling Ossie to also recommend another player to accompany him. He chose fellow Argentine World cup player Ricardo Villa.
How did Ossie find his new home? "Well I adapted very quickly. I was player of the month and player of the year." For Ossie, as it was for compatriot Ricky Villa who made the journey with him, the fortunes of his footballing life were homologous with those of his personal life. "The more happy we were, the better we would play football" he concludes.
Villa did not settle as easily as Ossie. Was that a foregone conclusion for the urbane city-dweller who had already been learning English for 6 years? "Some say it was because I am from the city and Ricky is from a farm…you can go all day to think about why. We are very different as people. In fact, Ricky is much more extrovert than me so it should have been easier for him. But perhaps because he was more extrovert, not being able to speak made him feel even more frustrated."
Their thick accents led to one memorable misunderstanding. The clearly distinguishable pair were heading to Harrods at the invitation of the Argentine embassy and, knowing they were close to their desitination, asked two policeman for directions: "You know Harro'? Where is Harro'?" The helpful constabulary escorted them all the way to Harrow, all the way back and beyond the North Circular.
Difficult Times
Villa would dream about being back in his lingual camp, but Ossie was more pragmatic: "now we are living here, we should do the most (we can) since we are here," he would tell his teammate. 'The most' did not preclude trying to keep up with Argentinian affairs, even if 1970's communications made this problematic. "We would read the news one week late." Ossie explains: "This was before internet. The paper had to arrive to the Argentinian embassy, then they had to send it to us..."
But Ossie didn't have to wait to get news of one of his life's most significant events. Something that he describes as "a very terrible time." He was in Argentina with the national team training ahead of World Cup in 1982 in Spain when the outbreak of the Malvinas conflict happened.
"Basically the country that I was born in, that I love, Argentina, was at war with the country that had adopted me…Personally for me it was a very terrible time." There is a detectable change in Ossie's poise and otherwise self-possessedness as he recalls those "very turbulent" years. For the first time in the interview Ossie is reflective and distant.
In the absence of formal bilateral relations between the UK and Argentina, Ossie, along with Villa, made a decision "With Ricky, we said that we have to be a kind of bridge between the two countries. With our football." There's a detectable sense that Ossie wanted to put things right but that, moreover, he would be privileged to attempt do so: "We were so famous here and popular. We were representing Argentina and were happy to."
It was a position that suited Ossie. After all, he had relevant experience. Before the Malvinas conflict, back in 1978 Ossie and the rest of Argentina's World Cup squad found themselves in the undesirable position of representing a country under a cruel dictatorship. Coach Cesar Luis Menotti attempted to isolate the players from the turmoil and fostered a resolute determination: "Out job was to lift the World Cup, nothing else." Was Ossie worried that a victory might be appropriated by the dictatorship as a victory for them? "No." he replies categorically, "We were Argentina."
Ossie's opinion about sport and politics couldn't be clearer: "Football has always been used by politicians, it doesn't matter if it's a dictatorship or a democracy...every time politics is involved with sport, it's sport that suffers." Not that Ossie doesn't engage with politics and current affairs, he does. He is patently of a different era in that respect.
Does he think that life is easier for foreign footballers now? "The clubs know what to expect and are familiar with their needs." he says. Not only footballers but managers too. Southampton's Argentine manager Mauricio Pochettino has a personal interpreter and had yet to conduct a press conference in English.
"I know for a fact that Mauricio speaks English," Ossie smiles, again reminding us of the precedent he set when he arrived in (when was it again?) 1978. "He's just taking his time." He muses, obviously amused. Perhaps because things have changed since and because of Ossie. Perhaps because modern clubs will afford Pochettino the luxury of doing so. Or perhaps because Pochettino just doesn't want to end up in Harrow.
Osvaldo Ardiles will be receiving a lifetime Achievement Award at the LUKAS 2014 on 30th April.
Señor Ceviche reaches maturity with its more sophisticated sister...
After a summer when the sounds of Reggeaton dominated the mainstream...
First there was Buena Vista, now there is Ondatrópica, a new Afro-...