Alma Antigua - The Young Guatalaman with Vintage Charm
Described by The New York Times as having a 'tangy, bluesy voice with the feistiness of Edith Piaf,' there is something definitely old-worldy about the Guatemalan singer-songwriter who has a Latin Grammy, tours with Ricardo Arjona, not to mention a duet with her fellow Guatemalan superstar, under her belt. Busy launching her first all-Spanish album 'Postales' we caught up with Gaby Moreno in Los Angeles, where she squeezed us in, between touring from Guatemala and going on the road again with Hugh Laurie in Latin America.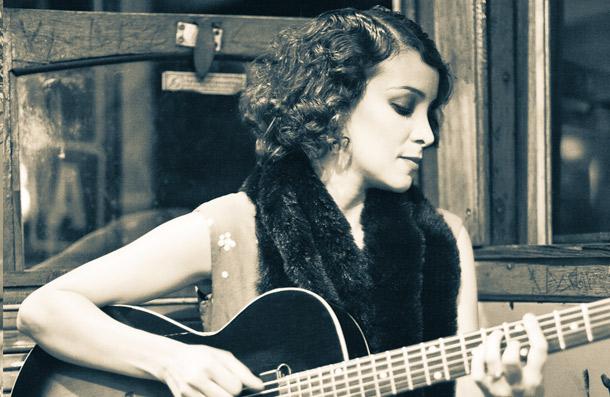 Born and raised in Guatemala, Gaby made her professional debut aged 9 at Guatemala's Teatro Nacional. She knew from that moment that she wanted to sing, and never looked back: she sang at festivals and telethons, and by 10 was opening for Ricky Martin and Mexican stars Cristian Castro and Magneto.
But it was aged 13, on a trip to New York City with her family, that Gaby stumbled onto the sound that would define her life and work. "I heard a lady singing on the street and I literally just walked up to her and said 'What is this music?' and she said 'That's the blues!'" Gaby tells me. "I didn't know what artists to listen to, I just remember going to a record store and buying a compilation record… I've been listening to blues since I was 13 years old, so I've had a lot of time to delve into it."
From then on Gaby was the odd one in her school, listening to old American blues, jazz and soul. She cites Ella Fitzgerald, Nina Simone and Aretha Franklin as inspirations, and her love of all things old is reflected not just in her music but also in her personal style. 'Wasn't that a bit unusual?' I ask.
"IT was very unusual! But the sound just resonated with me. You can't explain it when that happens. I just love anything that comes from that era – pretty much just the first 6 decades of the twentieth century, that's really what I love. I love the music, I love the fashion, literature, films, everything! I think it was kinda just a golden era in art," she told us.
At the age of 17, the feisty young Guatemalan moved to Los Angeles to pursue her dream of becoming a singer-songwriter. Releasing her debut album 'Still the Unknown' (2008) to critical acclaim, she was requested to write the theme to NBC hit show 'Parks and Recreation' with Patrick Jones, and they were nominated for an Emmy for their efforts. The Guatemalan songstress went on to support Ani DiFranco and Tracy Chapman on their world tours in 2009 and 2010. In 2010 her independently released second album llIustrated Songs reached the top of the Latin Itunes and Amazon Latin charts.
Whilst Gaby had achieved success in her adopted home of the USA, as well as Europe, it was only in 2011 that she got her break in Latin America. Gaby recorded the song Fuiste Tu with superstar fellow Guatemalan Ricardo Arjona which received two Latin Grammy nominations and has over 100 million views on YouTube (no, 110 mil is not a typo). 2013 saw Gaby continuing on this upwards trajectory: her first Spanish-only album 'Postales' won a Latin Grammy and she recorded the duet 'Kiss of Fire' with the British comedy actor-turned-blues-musician Hugh Laurie. Now, just back from gigging in Guatemala, Gaby will continue touring the world with him and his Copper Bottom Band.
LatinoLife: How was it performing back home in Guatemala?
Gaby Moreno: That was amazing, incredible – I did a show not far from Guatemala City, in a beautiful old theatre from the 1920s; and the other show I did in Antigua, one of the most touristic places but also the most beautiful venue. The stage is in front of an old church from the 1600s. It's incredible – outside with the moon and the stars… and I had special guests join me – the Milk Carton Kids who are an amazing folk duo, and some other guests from Argentina and Puerto Rico.
LL: Do you feel at home in Latin America?
GM: I've been here now for 13 years and I sort of feel it's my second home… my whole family is in Guatemala, and every time I go back I feel like I never really left. But all my work is here [in L.A.], so I do feel at home here as well.
LL: Tell us a bit about the new record Postales.
GM: Postales means postcards; I wanted it to be a journey where people could be transported to another state of mind, or another era – actually the record has a lot of influences, from the 1920's to the 1960's. It's kind of a throwback sound – or at least that's what I intended it to be. It was the first time I was writing blues songs in Spanish so that was a bit of a challenge at first…but then I realised that it's actually not so bad – and I liked that I was doing something fresh.
LL: Your first two albums, Still The Unknown (2008) and Illustrated Songs (2011) had a mixture of Spanish and English songs. Postales is your first album entirely in Spanish – why did you choose to do that now?
GM: I had been an independent artist for many years and released two albums on my own that were bilingual, just because that's what I liked to do – it came naturally to sing in both, I never gave it a second thought. Then I was signed to a label in Latin America and that was going to be basically my introduction to Latin America. Before that I had been living in LA and doing tours here (in America) and in Europe, but I never had the chance to do anything in Latin America - except for Guatemala of course. So this was going to be my introduction to that market and for that reason we decided to do it completely in Spanish.
LL: Was that after the duet with Ricardo Arjona?
GM: It's actually his [Ricardo Arjona's] label – he invited me to do that duet and shortly after he asked me to sign with the label. He actually created that label so he could release his own albums independently, not to sign a bunch of artists – but he really wanted to help me – he knew I didn't have anybody and he wanted to lend a helping hand.
LL: Do you feel that there's a difference between writing or singing in Spanish and English?
GM: At the end of the day music is a universal language, and the same feelings that I'm projecting in Spanish or English, they come through – it doesn't matter what language I'm singing in. at the end of the day the emotions are all there, I lay it all on the table – whether it's in English or in Spanish.
LL: Are there any current artists that you like?
GM: I admire and respect artists like St. Vincent: I really love what she does even though it's completely different to what I do; it's a really modern industrial sound. Also Esperanza Spalding because she's an incredible jazz musician, and Ray LaMontagne….there are a lot of great musicians out there.
LL: Talking of great musicians, how did the collaboration with Hugh Laurie come about?
GM: He was making his album here in L.A. and we have a friend in common: his producer Joe Henry, who I've known for a few years. They were working on a song called Kiss of Fire which is originally a tango, the lyrics are originally in Spanish, and so Joe asked if I would come and sing a duet with Hugh and sing the Spanish lyrics. I met him for the first time in the studio, I sang and he loved it and he asked me to sing on a few more songs on the record… and then he asked me to be in his band, and to tour with him all over the world, which has been incredible! He's such an entertainer, but he's really such a loving and generous man…it's really a joy to work with him.
LL: When you sing Kiss of Fire together on tour you and Hugh dance the tango together – whose idea was that?
GM: It was his idea – he emailed me that he was toying with the idea of doing a little dance in the instrumental part, and I was like "Heck yeah, let's do it!". And he got us a choreographer just to teach us those little moves… I'd never danced tango before and I don't think he had either, but it's just kind of a tongue-in-cheek moment really, just for the fun of it.
LL: Is there anyone else you'd like to collaborate with?
GM: I really love Lianne LaHavas – she is brilliant, I always said I'd love to do something with her. There's a lot of Brazilian artists, like Caetano Veloso… and Randy Newman is of course a legend, it would be a dream to do something with him one day.
LL: What's in store for you in 2014? We're really excited to see you at Rich Mix as part of La Linea festival in April!
Yes, I'm so excited to play in England again! And the tour with Hugh Laurie which is going to last a few months - we're going to New Zealand and Australia in April - and I'm planning some shows in Europe in June or July. I'm also working on a new record in the summer and then hopefully putting it out later this year.
Gaby Moreno will be at Rich Mix in Bethnal Green on the 4th of April as part of La Linea, the London Latin Music Festival. For tickets and info go to http://www.richmix.org.uk/whats-on/event/la-linea-gaby-moreno-support/ or http://www.comono.co.uk/la-linea/
Señor Ceviche reaches maturity with its more sophisticated sister...
After a summer when the sounds of Reggeaton dominated the mainstream...
As Brazilian elections continue to dominate the Latin American press...