The Salsa Group that IS Cali - an interview wth Grupo Niche
It has been said that 'Grupo Niche IS Cali and Cali IS Niche', indeed Niche is the most significant band to come out of the Colombian cIty that is known as the 'Capital of Salsa' more, and arguably out of Colombia itself. Like the rolling Stones, like Los Van Van, it is a band that has reinvented itself decade after decade, to become an musical institution representing not only its city, but its country and its genre music. Now after the death of Jairo Varela, it is proving it can survive even its father, recently winning the prestigious SuperCongo prize in the Carnaval de Barranquilla, of which there have only been five winners in the history of the carnival. We caught uyp with the legendary band, as it makes its way to London.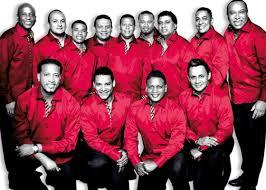 Grupo Niche formed in 1978 under the guiding influence of legendary musician Jairo Varela, who remained in the group until his death in 2012. Since then they have been the most popular group in teh history of Cali, and arguably Colombia, spreading their style of melodic, rythmic, romantic salsa to the world. One girl from Aguas Blancas, one of Cali's poorest neighbourhood, summed up the key to Niche's popularity: "Jairo Varela has never forgotten where he came from, his songs talk about his race and his roots. He is our Cali" Niche put Cali and black Colombia on the global culture map.
Grupo Niche is the soul of Colombia in the way Motown was to the US - it is probably the first commercial successful Colombian band to be proudly black. Even the name Niche means 'of African Origin', 70% of Cali's residents are black, and Niche's pride in Cali and in black culture bursts through their famous anthems and lyrics. With the global success of Grupo Niche, the band made it more difficult for the Colombian elite to dismiss the country's black heritage, as it has often wanted to do (indeed it tried and succeed in encarcerating Jairo Varela for a while). Despite the efforts, nobody could stifle the popularity of Grupo Niche's lyrics, which reflected Varela' own pride in black Colombia:
There's a joke that's going around, and the joke is on me,
I've got a big nose and big lips, And they can't find anything good in that,
I'm black, it's true, I'm from Mother Africa, And I feel proud of it.
Ironically, Jairo Varela Martínez, was not born in Cali but in Quibdó, in the Colombian department of Chocó, on December 9, 1949. But, as he said " Cali is my cradle, the city that witnessed my birth musically, the city that has supported me without restrictions, synthesiing who I am, Cali and Grupo Niche is the same thing for me.
The group needed to not only deal with daily socio-economic realities of civil war, but were on their own mission to project their own type of Niche salsa into the music scene. With Jairo and Alexis Lozano were also Nicolas Cristancho, on the piano; Francisco Garcia, on the bass; Luis Pacheco, on the congas; as well as vocalists Jorge Bassam and Hector Viveros.
After a few not too successful years in Bogotá, the band made what would prove to be a key move and headed to Cali. "No Hay Quinto Malo" released in 1984, featured their signature song, "Cali Pachanguero". The tribute hit single to the "world salsa capital" catapulted Niche as one of the top salsa bands of Colombia.The group's best best known hits are "Cali Aji", "Del Puente Pa'llá", "Sin Sentimientos", "Una Aventura", "Etnia", "Gotas de Lluvia", "Han Cogido la Cosa", "Mi Pueblo Natal", "Hagamos Lo Que Diga Corazon", "Duele Mas", "Nuestro Sueño", and the famous cumbia "Canoa Rancha".
Coming to London from having won the most prestigious award in Colombia and with their latest album 'Tocando el cielo con tus manos' to be released in April 2014, Latinolife talked to current vocalist Elvis Magno on overcoming the death of Niche's father and what keeps Niche's magic alive...
LL: How did Jairo Varela's death impact on the group?
Elvis: It was an incredibly sad and very difficult time for us; we lost a great maestro, friend and musical director. Jairo was the fire behind Niche for a long time. He started the group, gave it our 'magia'. He was very respected and loved, not only by our friends and family in Colombia. So what did we do? Well we carried on writing! Jairo's influences still are a great source of inspiration for us today. At the moment his daughter Yanila is managing and organizing this tour so it's fantastic to keep it in the family and Niche will continue.
LL: Do you think your music still translates well - from the 1980s when the group started, up to present day?
Elvis: I mean we started out in Bogota in the 1970s with Jairo and Alexis (Lozano). At that time Fruko was a big salsa band so we were lucky to have such a great composer and musician directing us to help us create our own special 'sabor'. So when we moved to Cali and took on Tito (Gomez) it was a great time for us too, we began to explore all the other types of salsa out there – New York, Puerto Rican… but we still kept our own Niche style. I think people love to dance, we want to make people keep on dancing! So I would say yes of course we have evolved as a group and we continue to write new material as homage to those early Niche days.
LL: How do you see the group evolving over the next few years?
Elvis: Well this tour is a great starting point for us. We are continuing to write new material and touch base with new musicians. Everybody loves salsa! Niche will keep on going. We have just been recording a few new videos, one of which is for a concert in Tenerife. We love being in touch with our fans and making people dance.
LL: Is Cali still seen as a salsa hotspot?
Elvis: Yes of course! I would say that today it's even more so. It's the global salsa capital! We are Grupo Niche and love representing the city, that's why we wrote 'Cali Pachanguero'. Through the lyrics and the song we want people to keep enjoying salsa music and what Niche represents.
LL: Do you think Colombian artists such as 'La 33' still can produce top salsa music?
Elvis: Well as you know each artist and musician has their own unique style and ideas when writing and recording songs. The group that you mentioned certainly does! Niche defined salsa music in Colombia. It greatly shaped Colombian salsa and is now one of the world's most iconic salsa groups. Obviously I think it's great if our contemporaries listen to our music and produce their own take on salsa music.
LL: How do your EU fans receive you?
Elvis: I think people in Europe love to dance salsa. They are great dancers! For us it is so important to provide a great show so that people still get a great impression of Grupo Niche during each and every tour date.
LL: You just won the Super Congo de Oro in Barranquilla, one of the highest awards that any band can win in Colombia, how do you feel about winning the award?
Elvis: For us as a group every different award we win is an honour, it shows that people love and respect our music and that people recognize our work. It's a wonderful thing. We are also currently nominated in the Billboard awards (the awards will be broadcast on the 24th April), so finally people are recognizing salsa music.
LL: Niche has changed its sound many times throughout the years, what does Niche sound like now?
Elvis: I think that Niche still has the same sound that maestro Jairo created for the band. We have a great sound, a sharp sound. That has always characterized the group. At the moment I think we are honing and perfecting our sound and playing better than ever. So for the Latin community and salsa lovers too, live and recorded we are still promoting our Niche sound.
LL: Right now there is a big wave of Urban salsa o Salsa Choke/choque coming from Colombia, what do you think of it? Is it something that could influence Niche?
Elvis: At the moment I don't think there is any type of music that could influence Niche. However, I think that any type of salsa music nowadays has been influenced by Niche. Choque is a great sound, I think it's being really well produced, genres change over time and people are open to new trends such as American House or Reggaeton… at the moment that urban style salsa is sounding really good! It's doing really well in Colombia. But Niche will still continue to be Niche, we are influenced and proud of all the things we have experienced as a group, our story, and we will continue to produce our own unique Niche 'sabor'.
Latinolife: Let's talk a bit about the current tour...
Elvis: It's exciting! We love playing in Colombia so it's great to be on tour again promoting our new CD (Tocando el cielo con las manos). Today, well as you know, we have just been on the radio here in Guatemala and then we are off to Mexico. I love coming to Central America, it's a different take on salsa music. After our gigs here we are off to 'El viejo continente', Germany, the UK, and Spain… A fresh crowd.
Grupo Niche will be playing at Electric Brixton on Friday 2nd May For tickets: http://www.comono.co.uk/live/grupo-niche/
Señor Ceviche reaches maturity with its more sophisticated sister...
After a summer when the sounds of Reggeaton dominated the mainstream...