Sara Chandler - Human Rights Worker of the Year 2014
There is much to say about Prof. Sara Chandler, Chair of the Colombia Caravan UK Lawyers Group and the winner of LUKAS Award for Charity or Human Rights Worker of the Year. Read what she told us about her fascinating life and efforts to make the world a better place.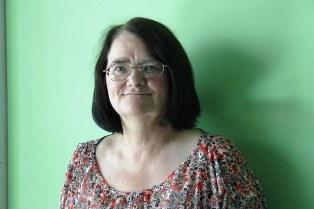 I am 68 years old, and come from Devon, where I was born in Clovelly and brought up in Ilfracombe, on the beautiful North Devon coast. Both are seaside towns with harbours with fishing and tourist boats. I am one of 6 children and I was born immediately after the war with food rationing. I can remember my little brother being born, we were all born at home, with the District Nurse as the midwife. I was number three, he was number five.
When I was a University student studying politics in the 1960's I became interested in Latin America, and was lucky to get a grant to study for a Masters (M.A.) in Latin American Studies. I then went to Chile in 1971-72 to study the agrarian reform of the Popular Unity government of Dr Salvador Allende.
I had returned to the UK and was working in the University of Glasgow when the military coup led by General Pinochet took place on 11 September 1973. I gave my notice in and one month later I was in London working as a volunteer in the human rights, solidarity and cultural committees. With other people who had been in Chile we applied to the British government for a grant to run a refugee programme specifically for Chilean refugees. I worked as the social worker for the Chilean refugees settling in London, and as I spoke Spanish every day, I gradually improved my Spanish. After a while other refugees came from Argentina, Uruguay and Paraguay.
In 1976 I was a founder member with a group of Chileans and British musicians and dancers of a Chilean folk group called Mayapi, which played the music of all regions of Chile and produced the traditional dances from Chile and later from other Latin American countries. We performed at solidarity events for years, and the group continued into the mid 1990's. I loved the music, song and dance and played the violin, and learnt to play Andean pipes in the group.
After the 1979 Thatcher government closed the refugee programme, I studied and qualified as a social worker in South Bank Polytechnic, in Elephant & Castle. Then I went to work in the North Lewisham Law Centre in Deptford for 10 years, and in the last 2 years I studied law part time. I qualified as a solicitor in 1995, and the direction of my life took a new path. I became interested in the Law Society and its potential to represent solicitors. I was elected to represent voluntary sector solicitors, such as Law Centre solicitors in 2002, and I have continued to be their representative on the Law Society Council ever since.
In 2003 the Law Society asked me to interpret for a visiting human rights lawyer from Colombia. Her name was Liliana Uribe, and I was utterly shocked by her story. From that time on I became increasingly involved in supporting human rights lawyers in Colombia. I met volunteers from Peace Brigades International, who volunteer to accompany human rights defenders who are at risk, and I learnt a lot more about the violation of human rights in Colombia.
In 2004, I joined the Law Society's Human Rights Committee, and found many ways in which we could support Colombian human rights lawyers. From 2005 I have been active in the Federation of European Bar Associations (FBE), and am the President of the FBE Human Rights Commission, building support for Colombian human rights lawyers amongst European lawyers.
In 2008 I helped to organize the first Caravana Internacional de Juristas, which visited Colombia in August to hear testimony from human rights defenders and the victims of violence. Since that first visit we have continued our support, visiting Colombia every two years with a delegation of volunteer lawyers. Around 160 lawyers have visited with the Caravana from 15 different countries. We will go again in August this year with a team of around 50 lawyers.
In 2008 I became the Chair of the Colombia Caravana UK Lawyers Group, a limited company which later became a charity.
My commitment grew during the 1970's while I worked with refugees arriving from Chile, direct from prison where they had been imprisoned as political prisoners by the Pinochet regime. Not one, but many refugees from Chile influenced me. Then when I met the Colombian human rights lawyers, I found that the same dedication and courage made me feel that I must and could do something to make a difference.
I am deeply passionate about justice and the defense of human rights. When that is expressed in music, and it is in the Chilean songs that tell us about the struggle for justice, human rights and the resistance in Chile during the 1970's and 1980's and 1990's, I come alive and love to sing these tributes to those who fell and to those who struggled on and eventually succeeded.
One of the most difficult obstacles was starting the Caravana with a very small group of volunteers, when we had to do a lot of activities in a short time. That was years ago, and today there are far more dedicated volunteers, including those who helped organize the first Caravana activities. We regularly fund raise, and have sufficient support from the Law Society Charity to have a part time Coordinator, Joanne Hutchinson, who is an amazing woman and a returned Peace Brigades Volunteer.
The Colombian human rights lawyers are incredibly brave, and if I ever feel that the task is too big, I just think of what they face every day. They have to leave home, knowing that para-militaries could short them on the street, as they reach their office or reach the Court. They receive the most obscene death threats by texts, emails, leaflets and even posters.
What song would I like to be played at my funeral? Gracias a la vida by Violeta Parra, sung by a choir of Latin American and British singers.
I would like to see peace and justice in Colombia, with protection for human rights lawyers and respect for access to justice to such an extent that poor people can have help from a lawyer with a Colombian legal aid system. I would like to be there to celebrate with all the Colombian lawyers, judges and human rights defenders who will build a secure and democratic future with respect for human rights and access to justice f or all.
Señor Ceviche reaches maturity with its more sophisticated sister...
After a summer when the sounds of Reggeaton dominated the mainstream...