The Magnificent Seven
They are Spain's newest offering to the Flamenco scene: seven Barcelona-bred brothers by a father of 39 offspring, who blend the classical and the contemporary. Framed by a band of eight female musicians, Los Vivanco's acrobatic, testosterone-fuelled flamenco fiesta are taking the world by storm.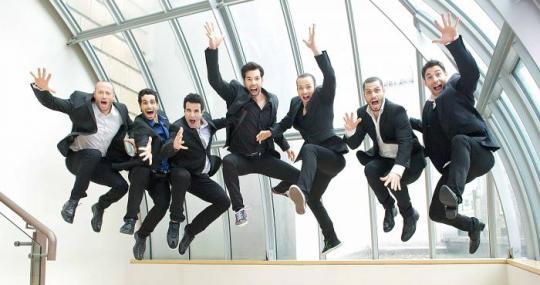 Meet Judah, Israel, Josua, Elías, Josué, Aarón and Cristo. Seven Spanish siblings, musically skilled, trained in numerous physical arts and who define their bodies as their primary instrument. The boyish of boys, even at first glance these lads have a playful and physical attitude to each other that is unmistakably sibling like, despite looking little like each other.
Presumably from different mothers, they are as diverse in appearance as in personality. On stage their age gaps are erased but off stage one or two of them take the roles of older brothers. Elias, for example, is the mature and responsible figure. Judah and Elías, who have perhaps the most refined English, do most of the talking. Judah who is neither the tallest nor the youngest, is engaging and smart.
As for Aarón, the most rambunctious of the septet and in fact the youngest, well lets just say, what he lacks in words he makes up for in actions, demanding attention throughout our interview with his floreo fingers and gypsy gesticulations. He's already on it when I ask to see some moves.
I observe curiously as they shuffle about. Suddenly it all happens... Joshua commences the clapping at a fast tempo. Words cannot describe the speed at which the seven Vivancos reacted to the signal of their brother's clapping. In a split second they are alive and in position. A second later they are well into the choreography, stamping and clapping in rapid synchronization. Despite the differences, there is a natural harmony, symmetry and synchronicity.
Latinolife: So you are on the road?
"Correct. We took our first show to 35 countries and this new trip is taking us from South America to Russia, Italy, Switzerland and right now we are still showing in Barcelona, looking forward to bringing it to London in July."
Los Vivancos have aired on national television in almost every Spanish speaking country in the world, including Spain's ultimate celebrity show El Hormiguero, the USA edition of Dancing With The Stars. They even cameoed alongside Spanish singer Melody Ruiz in her Eurovision entry Amante De La Luna.
Elías sees it as the result of hard work, and is careful to stress their connection to their roots rather than their celebrity status. In a sense their entire spectacle is an evolution and expression of the path laid down for them by their father. He is the connection between them, the one and only paternal icon in each of their lives. Thirty seven children! One can just hear the murmurs of disapproval around such a concept. How do they feel about sharing a father with 36 others?
"What can I say? We never got bored," Israel reveals, referring to his father as an icon; the ultimate father figure, although admits he's a bit of a 'machine'.
One might associate such a 'machine' with tales of neglect and abandonment.
"On the contrary," Israel continues. "We had a beautiful childhood and we've been lucky enough to have lived in an artistic environment from the start. Our father was also an artist, a dancer, a musician and fighter. We have been in training our entire lives."
LL: Fighting?
Elías is quick to mention the martial arts element to their offering. "We use a lot of martial arts concentration techniques to the acrobatic numbers in the show. It requires a lot of work" says Elías. "So yes, we've trained as fighters all our lives too."
Just as they've been raised differently, Los Vivancos believe that originality is the key to making something worthwhile for audiences. "We pay tribute to the traditional but we bring you something original," Judah believes while admitting that, "to declare something 'new' in this day an age is tough."
Aeternum is certainly not your traditional Sevillanas or Rumba. Working with some of musical theatre's biggest producers (Cirque du Soleil, national symphony orchestras) it's Flamenco on a bigger, more acrobatic, modern scale.
"You will see numbers in which we are playing and dancing at the same time. At one point Israel takes to the stage stamping in sync to the melody of his saxophone," explains Josua. "Or, for example, el cajón flamenco you normally play with your hands. We play it with our feet."
LL: And story telling also plays in the spectacle.
Elias: "It is a supernatural story. It plays on the idea that as living men we have a limited time on Earth. However, as artists we embody eternity. As artists we are not going anywhere. The soul lives on. This gives us dancers the freedom to embody spirits, angels, demons and vampires. Aeternum is a manifestation of the inner soul."
LL: Where do these ideas come from?
Judah: Well, we come up with the ideas and what we want to do, but working with the likes of Daniele (Finzi Pasca, creator and director of Cirque du Soleil) or the symphony orchestra in Budapest and Fernando Velázquez (composer of The Orphanage film score), these people have made an even grander spectacle out of what we do."
It is clear that these seven brothers are a multi-talented and ambitious bunch, out to prove something, determined to impress and be in the spotlight. It's as endearing as a little boy flinging himself about the living room shouting "look at me, look at me" as he vies for the attention of his parents (or surely father in this case). And yet the sheer energy and skill required to tackle every aspect of what they do, the female orchestra and rock band cajoling, each musical style expressed to the maximum in physical form, is what renders Aeternum a spectacle like no other.
"Hay de todo en el espectáculo," (the show holds no prisoners), they promise with their collective grins.
Señor Ceviche reaches maturity with its more sophisticated sister...
After a summer when the sounds of Reggeaton dominated the mainstream...
Carlos Cruz is Union Learning Organiser in United Migrant Workers...