Ibero-African Tragi-harmony
Paco Peña, arguably the best-known flamenco guitarist and composer outside Spain, talks about the musical harmony and human tragedy of Africa's relationship with Spain. In his upcoming dance show at Sadler's Well's 'Quimeras', he draws on his own experience of living in Andalusia, a gateway to Europe for many north African immigrants. The result is a marriage of both traditional Spanish and African music and dance, creating a spectacle of virtuoso performances and intimate storytelling.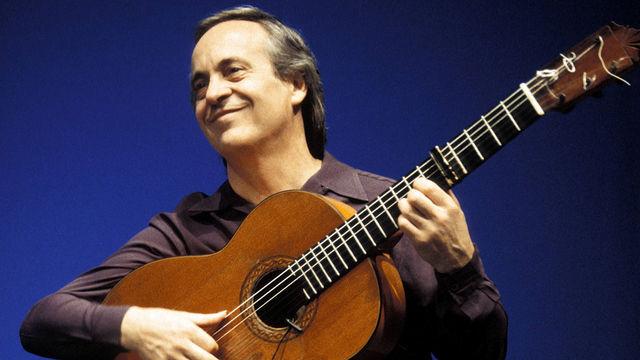 When foreigners think of Spain, they probably think of sun, paella, bullfighting and flamenco dancers. Whilst these stereotypes may be true in some parts of the country, where I come from, up in the north, they are rarities. We have a lot of rain, caldo gallego to keep us warm, herds of cows roaming freely in the fields and (beautifully sounding!) traditional bagpipe-based folk music. So when I came to live in London in 1995 I had very little experience of flamenco music in my own country. I had obviously heard flamenco on the radio and watched a few performances on the television, but generally speaking flamenco, like bullfighting, was not commonplace in my particular region.
Ironically, my move to London exposed me to flamenco. Its popularity having exploded in recent years, with dozens of schools offering guitar and dance lessons, and leading venues offering performances by the finest flamenco guitarists, singers and dancers.
The person largely responsible for this is Paco Peña who, having established himself in Spain in the 1960s as a highly-regarded accompanist to Flamenco dance and singing, decided to look for new musical challenges abroad, starting with London. As a soloist Peña generated so much interest with his virtuosistic interpretations that he soon found himself sharing the stage with artists such as Jimi Hendrix. Before long Peña was touring the world, both as a soloist and an accompanist at New York's Carnegie Hall and London's Royal Albert Hall and recording albums with the likes of John Williams, another great guitar master. Always challenging the boundaries, Peña is widely regarded as having transformed perceptions of this archetypal Spanish art form, without losing touch with its visceral emotion. His latest project is a new interpretation of Misa Flamenca at the Royal Festival Hall with his flamenco company, a classical choir and the South African composer Neo Muyanga as part of the Africa Utopia festival.
LL: How did you meet Neo Muyanga and how did you decide to collaborate on this project?
PP: Neo is someone I have known for some time having been introduced by the Artistic Director at the South Bank, Jude Kelly. We thought that eventually an opportunity would arise to work together and with the theme of the current festival at the Southbank I thought about this possibility and suggested it to him.
LL: What connections are there between Flamenco and African music?
PP: I feel that the two have a great deal in common because we are geographically very close to Africa in the south of Spain. We have a history together and more recently the trafficking of African people to Europe has left a significant influence on popular culture in Spain. I definitely feel both instinctively and musically that there are certain similarities as well as a strong connection.
LL: How have you adapted the original Misa Flamenca for the Africa Utopia festival and how exactly has the African element been integrated into your work?
PP: I've been listening to African music for a while and I'm also working on another show using African music because I believe we owe so much musically to Africa. Flamenco is a collection of rhythmical patterns which are both complex and beautiful and remind me of the great rhythmical richness that exists in the African continent. I am also intrigued by the idea of gospel and the way in which the choir is used in South Africa. The choirs there perform so beautifully! I found such an honest, sincere musical expression could also contribute something new and fresh to the original Misa Flamenca. Neo Muyanga is a great composer and together we have been adapting Misa Flamenca in such a way that the essence of the original is retained but other African elements are added.
LL: For those readers who are not familiar with this composition, could you tell us a little bit about the original piece and how it came about?
PP: Whilst performing in Poland many years ago, I was told about a sacred music festival and asked if I could write something appropriate for the festival. Whilst at first the whole idea was a bit scary, when I actually thought about it, I realized that the mass would be the best vehicle to combine flamenco with aspects of spirituality, which was the core theme of the festival, but at the same time I also had the idea of adding a classical choir because the possibility of merging these two elements - the beauty, the cleanliness of the classical choir with the roughness, vitality and rawness sometimes associated with the sound of flamenco- has always fascinated me. I was intrigued by the idea of the fusion of these two elements, and ended up writing that piece for the festival in Poland but since then it has been performed in many other countries.
LL: How was the piece adapted to the liturgy of the Catholic Mass?
PP: I came to the conclusion that my only option was to create copla flamenca from the liturgy and that was actually quite difficult. The way in which the mass in the Catholic church is written does not lend itself much to poetry or the way in which one understands music, so I then had to find a way of changing that, but not too radically. I did it by sticking to the message of the liturgy but I also was advised by some good friends of mine in the clergy in Córdoba who helped me to do justice to the liturgy.
LL: How do you account for how well flamenco is received outside of Spain?
PP: Flamenco encompasses emotional elements that are part of the human condition and are universal, even if some people, countries and places are far removed from the tragic, difficult and precarious reality in which flamenco was first created. They may have lived for centuries distanced from the emotions of flamenco, but when flamenco reaches these people they also feel it. I think that when we are dealing with these emotional elements, which belong to all of us, the human being quivers and it is perhaps for that slightly romantic yet equally real reason that flamenco is so far-reaching.
LL: What other projects are you currently involved with?
PP: I am currently involved in a dance show that integrates African elements, on this occasion from West Africa, Senegal and Guinea, where emigration to Europe has been extensive and so many people throw themselves into the Atlantic to reach our continent. I wanted to treat this theme of both emigration and immigration as the human tragedy of having to abandon your home in search of a better life. So I focused on telling the story of the journey of these people who go looking for a better life and whilst searching for a utopia come up against other difficulties and the harsh reality of being an immigrant. I believe that this is a global problem, but as far as I am concerned, it affects me deeply because I have been in Andalucía and have always seen the flow of people crossing the continent and going on holiday to Africa and then returning to the places where they work, where as the other side has not the same freedom. It is something that I have experienced up close and for some time I have wanted to incorporate it into an artistic piece of work, which is what I am doing now.
LL: Is this a new work or an adaptation of an existing one?
I was invited to the Edinburgh Festival in 2010 and I prepared a piece called Quimeras for that event. This new piece will also be called Quimeras. I thought of the idea at that time, but the show did not go on tour. It was just a one-off event at the Edinburgh Festival. I am currently in the process of re-working it and it will be a completely different piece.
For more information on Quimeras at Sadler's Wells click here
Señor Ceviche reaches maturity with its more sophisticated sister...
After a summer when the sounds of Reggeaton dominated the mainstream...
Visiting the UK to brief UK lawyers on the current situation in...